Breakfasts
Blueberry Oatmeal Muffins
Recipe from The Millen's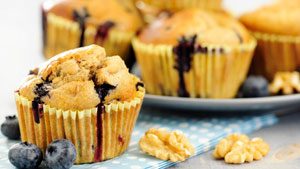 Ingredients:
1 cup all purpose flour
2 tsp baking powder
½ tsp salt
½ tsp cinnamon
¾ cup rolled oats
½ cup lightly packed brown sugar
1 egg
1 cup milk
¼ cup melted margarine
¾ cup fresh or frozen wild blueberries
Preparation:
Stir dry ingredients together. Add sugar and rolled oats. Beat together in a large bowl egg, milk and melted margarine. Add the dry ingredients and stir just until moistened. Fold in blueberries.
Bake 375F for 20 minutes or until brown.
---
Blueberry Smoothie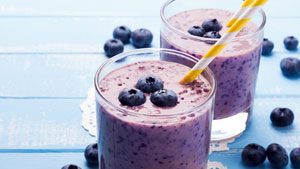 Ingredients:
1/2 cup nonfat or 1 percent lowfat milk
1/2 cup non fat plain yogurt
1 cup frozen blueberries (unsweetened)
1 teaspoon honey
Preparation:
Put all ingredients into a blender and blend until smooth.
---
Blueberry Pancakes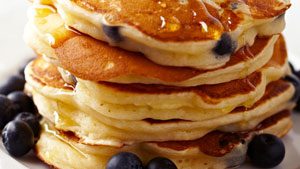 Ingredients:
1 1/3 cups all-purpose flour
3 tsp. baking powder
1/2 tsp. salt
1/3 cup sugar
1 egg
1 cup milk (or buttermilk is great too, if you have it)
3 Tbsp. melted butter or vegetable oil
1/4 tsp. vanilla
1 cup fresh blueberries (* or frozen, see note below)
Preparation:
In a bowl, combine flour, baking powder, salt and sugar. In a small bowl, beat egg thoroughly then add milk (or buttermilk) and combine thoroughly.
Make a well in the dry ingredients and slowly add the egg-milk mixture. Add the melted butter and vanilla. Stir quickly until ingredients are just mixed and batter is still lumpy in appearance.
Drop by 1/4 cupfuls on medium-hot pancake griddle or non-stick pan. Sprinkle with fresh blueberries. Cook pancakes until they are filled with bubbles and the under-side in golden brown. Turn and brown the other side.
Serve with butter, maple syrup and a dusting of icing sugar.
---
Strawberry Smoothie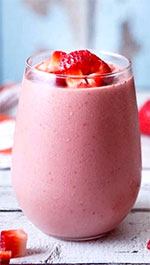 Ingredients:
8 Strawberries
2 overripe bananas, coarsely chopped
3 Cups Milk
1 cup Vanilla-flavoured yogurt
Preparation:
Blend the strawberries, banana, milk and yogurt in a blender
Blend until smooth
Serve chilled