Sauces & Jams
Blueberry Jam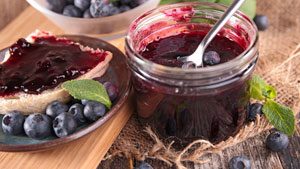 Ingredients:
8 cups (2 L) blueberries
2-1/2 cups (625 mL) granulated sugar
1 pkg (49 g) light fruit pectin crystals
Preparation:
In large Dutch oven and using potato masher,
mash blueberries to make 5 cups (1.25 L).
Add 1 cup (250 mL) water.
Mix pectin with 1/4 cup (50 mL) of the sugar; stir into blueberries. Bring to full rolling boil over high heat, stirring occasionally. Stir in remaining sugar and return to full rolling boil; boil hard, stirring, for 1 minute. Remove from heat; skim off foam.
Using funnel, fill hot 1-cup (250 mL) canning jars, leaving 1/4-inch (5 mm) headspace. Cover with prepared lids. Screw on bands until resistance is met; increase to fingertip tight. Boil in boiling water canner for 10 minutes.
---
Blueberry Sauce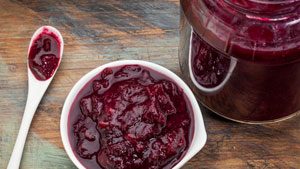 Ingredients:
2 cups fresh or frozen blueberries
1/4 cup water
1 cup orange juice
3/4 cup white sugar
1/4 cup cold water
3 tablespoons cornstarch
1/2 teaspoon almond extract
1/8 teaspoon ground cinnamon
Preparation:
In a saucepan over medium heat, combine the blueberries, 1/4 cup of water, orange juice, and sugar. Stir gently, and bring to a boil.
In a cup or small bowl, mix together the cornstarch and 1/4 cup cold water. Gently stir the cornstarch mixture into the blueberries so as not to mash the berries. Simmer gently until thick enough to coat the back of a metal spoon, 3 to 4 minutes. Remove from heat and stir in the almond extract and cinnamon. Thin sauce with water if it is too thick for your liking.